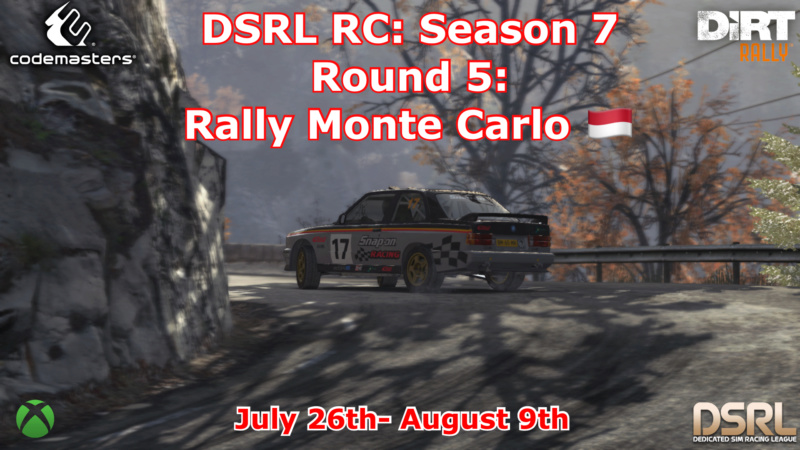 Round 5 of the Championship is now underway!Stages, service areas and conditions for Round 5: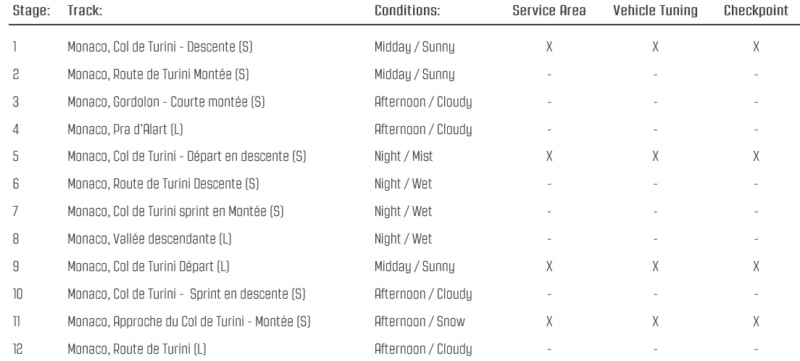 Rally Monte Carlo stages are live from July 26th- August 9thFeel free to discuss your rally & post any pictures, videos, gameclips, stream links, summaries etc. from Round 5 in this thread.

Registration:
http://www.thedsrl.com/t785-dsrl-rc-season-7-registration
Championship Standings:
http://www.thedsrl.com/t806-dsrl-rc-season-7-standings
Racenet link (live timing, full schedule and rally results):
https://www.dirtgame.com/us/leagues/league/66869/the-dsrl-rc
Good luck to all competing teams & drivers in icy Monte Carlo!
Last edited by EpilepticToast on Fri Aug 10, 2018 12:38 am; edited 1 time in total
EpilepticToast

Ten Time Champion



Monte Carlo done!
I took to the roads feeling happy as I like the Monte stages. Stages 1 - 4 went well, I kept it neat and tidy and didn`t push too hard as I was trying to look after the car.
I made a few big mistakes in SS5 and lost time and there after kept my sensible head on.
I was happy with the set up on dry  tarmac but once up the mountains in the slippy stuff the Ford Sierra was a pig, it went anywhere but where I wanted it to go.
Most important was  that I made it to the finish
Good luck out there drivers.
Last edited by Sloe on Wed Aug 01, 2018 9:32 am; edited 1 time in total (Reason for editing : can`t spell)
Sloe



I've done my 4 first stages... well, it's understeering fest... I'm slow, I'm thruggling with the steering, I've kill some peoples.
I can't fight against Sloe like the others rallyes
Lacidodomie



@Lacidodomie

wrote:

I can't fight against Sloe like the others rallyes
Just wait till the next few stages, you might be able to make up some time on me. Might
Sloe



You are almost one minute in front of me. It will be hard to play with you :p
Lacidodomie



I went off on ice and DNF'd because of an unrecoverable car
EpilepticToast

Ten Time Champion



Final day to complete Rally Monte Carlo. Timer expires tonight at 7pm EST/ 12am BST
EpilepticToast

Ten Time Champion



Round 5 is now complete!


Rally Monte Carlo:
20 entries
13 starters
10 finishers
7 DNS
3 DNF

Winner:
@VinceBartok
- BMW M3 E30 Rally
Congratulations to VinceBartok who grabs his second rally win of the season with a great drive on the icy Monte roads in his BMW! Many drivers were left short on funding for this round and were unfortunately unable to start the rally but they hope to make the final round. It's still all to play for in both championships as the season comes winding down to a close in the UK.
Standings will be updated ASAP. next up is the final round, Rally Wales!
EpilepticToast

Ten Time Champion



Well done @VinceBartak for the win.

Well done to all the other starters too, it was a tough rally but very enjoyable.


On to Wales . . .
Sloe




Similar topics
---
Permissions in this forum:
You
cannot
reply to topics in this forum