Last edited by EpilepticToast on Tue Sep 25, 2018 7:50 pm; edited 3 times in total
EpilepticToast

Ten Time Champion



Final season standings updated after the last round of the championship!
Congratulations to
@VinceBartok
on the Drivers Championship win!
Congratulations to Ford Performance (EpilepticToast,iDelinquenti) on the Teams Championship win!
Thank you to all who participated in this season of the DSRL Rally Championship, news on Season 8 will be available in the coming weeks after a cool down period. The format is likely to return to 6-8 stages per event as well as the use of a 4WD car once again...keep an eye out for registration!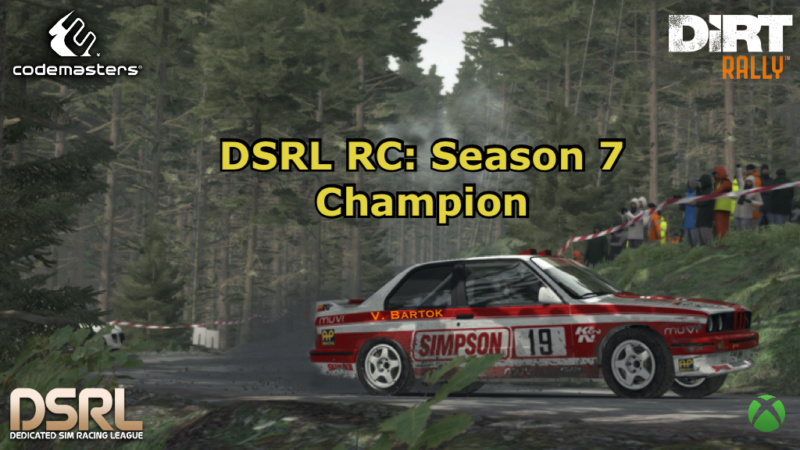 Last edited by EpilepticToast on Tue Sep 04, 2018 2:56 pm; edited 1 time in total
EpilepticToast

Ten Time Champion



Thanks to Toast for another great season, you`re a star
Well done to all drivers that took part too, especially my closest rival this season Eiopsis !
I`m certainly looking forward to next season
Sloe



Great job everybody !
Thanks to Toast, for the organisation.
This season was more calm than the previous season, a lot of DNS / DNF, maybe because holidays period.
However, I take a lot of fun to run against Sloe. That create a real pressure behind my TV and do the game more realistic
I can't wait to be at the next season
Lacidodomie



@Lacidodomie

wrote:

I can't wait to be at the next season

 
And I can`t wait to beat you again next season
Sloe



---
Permissions in this forum:
You
cannot
reply to topics in this forum